Written by SAS
Friday, 07 May 2010 10:12
Want to do something to defend your rights?
• Invite a friend, especially a newcomer, to go to the range with you •
Your friends will be thrilled to be invited,
especially if they've never been to a range before.
Give them this opportunity.
It's about the best thing you can give to an American.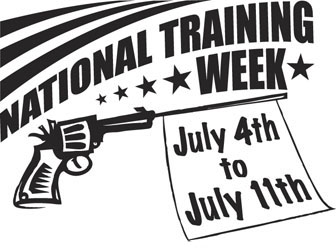 For more information go to: GunLaws.org

Last Updated on Tuesday, 11 May 2010 23:09
Written by Second Amendment Sisters
Monday, 05 April 2010 23:17
Second Amendment Sisters is proud to be a Patriot Sponsor of the Second Amendment March, which will take place in Washington DC on Monday April 19, 2010. If you're a woman who values her basic human right of self defense, it is our hope that you can find the time to join us in DC or at one of the local marches taking place in cities across the US. Please see the
Second Amendment March website
for more information.
If you can't attend, please take a moment to contact your representatives and let them know that you're with the Second Amendment March in spirit, and that you expect them to uphold your rights as an American citizen. If you're not sure who your representatives are, click on Web Links on our left menu, then choose the Activist's Toolbox category. There you'll find links to the sites for the US Senate and US House.

2010 will be a very critical year for our country, and we should all make the commitment to do our civic duty by keeping our elected representatives on notice. Our Second Amendment rights are more important now than ever.
Taken at the 2nd Amendment March - April 20, 2010
Last Updated on Thursday, 30 December 2010 13:22
Saturday, 13 February 2010 10:59
A new law that repeals a National Park Service policy that prohibited Americans from lawfully possessing firearms in national parks for self-defense is about to take effect on February 22.

Yet the NPS is still debating whether or not law-abiding citizens still "deserve" the right to protect themselves while traveling to and through our National Parks and they are still looking for loopholes to prevent us. Why? They say we will be killing animals illegally if we are allowed to have a gun in the park.

Does anybody remember Yosemite besides me?

Last summer I listened in horror as a woman was abducted, shoved into her a trunk and the kidnappers drove off with her, from right in front of her quarters in the Grand Canyon (June, 2009). The thought in my head was, "not good."  You see, I was working in the national parks 19 years ago, about the same time that the Cary Stayner raped and murdered Carole Sund, her young daughter and friend, then stuffed them in a trunk and burned their bodies.  I still have those visions in the night and even today as I travel for my job, which I often do in my RV staying at our nation's parks, I remember Carole Sund. So when these things happen, these "stories" take place, I feel them, they mean something to me.

The Grand Canyon incident turned out to be a hoax. Apparently the "kids," I'll call them, at the Mohave Apartment complex in the Grand Canyon haven't heard about Carole and the Yosemite murders. Forget that these "kids" cost our state a lot of money, or acted immaturely and irresponsibly. But don't forget, these "kids" have added their names to a long list of Cary Stayners who believe violence against women is ok, they believe it's just a big joke. I'd laugh at it and at the fact that Phoenix is the nation's leading kidnapping and abduction capitol, but I can't.

As the Arizona State Coordinator for the Second Amendment Sisters, I fight for my right to self-defense, no matter where I work or choose to go. The soon to be law to allow firearms in National Parks is one of my "pet projects." I will see to it that every woman is able to protect herself, feel safe and free to travel, alone if desired, and I will do that by fighting against unconstitutional laws that prohibit our right to keep and bear arms. I will be reminding anyone who dares tell me that I don't have that right or that I am not "qualified" to own and operate a firearm, that the  "kids" at the Canyon got away with abducting a woman (or so it appeared) and all for what, a joke? When and if that threat comes my way, real or a joke, I will be ready. Learn what the Second Amendment means and live it.
Last Updated on Thursday, 18 February 2010 00:45
Written by Second Amendment Sisters
Tuesday, 26 January 2010 11:44
Almost a year ago, Nikki Goeser
witnessed her husband's murde
r because Tennessee's laws prohibited open and concealed carry of guns for self-defense in restaurants. Tennessee changed its laws thanks largely to her willingness to share her heartbreak. Her goal now is to help others learn from it.
Nikki recently told her story to the Ohio State Legislature in hopes of keeping self-defense available to anyone, anywhere.
Last Updated on Thursday, 30 December 2010 13:22
Page 8 of 9